listen out for 2017...
nathan east - reverence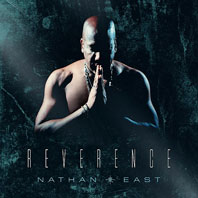 Always nice when the years first, full quality album, arrives, and this year the honour falls on the shoulders of the Philadelphia Soul and Jazz bassist, Nathan East. Nathan Harrell East, (to give the man his full name), releases 'Reverence' for the Yamaha Music Communications imprint in 2017. The album features several cover versions of Soul and Jazz evergreen's, and Nathan has enlisted the likes of Yolanda Adams, Philip Bailey, Ralph Johnson, Verdine White, Kirk Whalum, Ruben Studdard and Chick Corea. Ruben's input on 'Why Not This Sunday' will probably see the greatest amount of airplay on show here, although my 'cherry pick' is the bright and breezy 'The Mood I'm In', featuring Nikki Yanofsky fine vocal delivery. Really could be described as a National Health Service 'pick me up', with melodic hints of Norah Jones going on in the writings someplace. Nathan's work with Earth, Wind and Fire hasn't been unrecognised as the man weighs in with some fine versions of 'Lovers Holiday' and 'Serpentine Fire'. I also quite like the instrumental track 'Shadow' (which features Chick Corea). The albums 'grower' of a melody. Nice chunk of fusion here. Nathan has performed with many great artists including Anita Baker, Michael Jackson, Quincy Jones and Elton John. His pedigree really shines through on this very agreeable album. Nice way to start a new year.
http://nathaneast.com/
some great new tracks...
where do we go? (boogie back remix) - cornell 'cc' carter
the diamond inside/back to love - gordon chambers
la costa (reelsoul, dj spen & gary hudgins original latin soul mix) - sheila ford
i need you for your love - kim tibbs
also...
John Saltwell - Watching An Angel PB Mix
rc and the gritz - 'lessons'